The Joe Murphy Column
Today 13th June is a very special day in the history of the Murphy family as this was the day we won 1st open SNFC Sartilly with our hen 'Mystical Rose'. Kevin always phones me and wishes me a 'Happy Anniversary' which is very nice of him. While on about the Scottish national quite a number of fanciers have reported poor returns from the Buckingham race and this will have a knock-on effect with the distance races to come. Kevin ended up with 8 from his entry of 10 returned with 2 of them taking about a week to come back and the other has just reappeared yesterday. However he has not seen or heard of anything from the other 2 which is a pity as they were good pigeons but I'm afraid to say 'Not good enough'. It was good to see a young man Martyn Brown of Bo'ness win 1st & 4th section D 44th & 123rd open in the national. I have included a photograph of Martyn and his dad Allen along with a picture of their winner 'Well Mabel' named after Martyn's gran mother; well done once again. As I write this article we are scheduled heavy rain and it could be thunder storms then early tomorrow morning we are anticipated gales of 70 miles an hour. Let us hope this weather is long gone for the 2nd inland national from Maidstone this Saturday 16th June.
Martyn and Allen Brown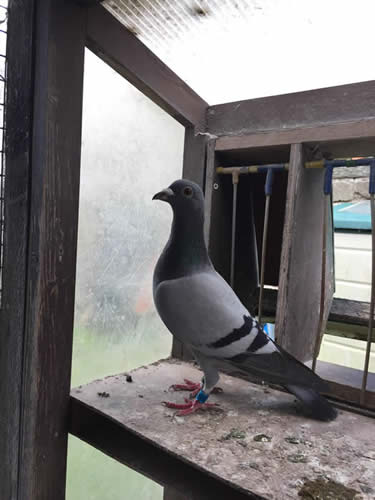 Wee Mabel
Results
Angus Federation
Federation result from Kenny Droog who informs us that the members send 258 birds to Tow Law on the 9th of June with the convoy liberated at 12 noon with no wind at the race point. The Forfar club dominate the result with Macaulay Ferguson and Curran partnership winning 1st 2nd 5th 13th & 28th open. Ian Scott is 3rd & 7th with Bob Baldie in 4th 8th 10th 11th 12th 14th 15th 19th & 20th with David J Liddle in 6th & 17th Kenny Droog & son are 9th & 16th thus filling the top 20. The east section is again dominated by Kevin J Murphy and Charlie & Glen Cameron of Arbroath club. Kevin is 1st and 10th with the Cameron lads taking all the other 8 positions.
Club winners are as follows; Forfar 155 birds winners the Macaulay Ferguson and Curran partnership. Montrose 37 birds winners G Campbell; Gourdon 11 birds winner D & D Hay, Arbroath 55 birds winner Kevin J Murphy.
Arbroath RPC had 5 members sending 55 birds to Tow Law with the convoy liberated at 21.00 with No wind at the race point. Taking the number one spot is Kevin Murphy with a pure Deweerdt bred in my stock loft from Bernard's top winning lines. The 2nd club winner is Charlie & Glen Cameron was a 2 year old hen who won 190th open SNFC Buckingham the Sunday previous. She is bred from a son of Duracell who was clocked after 11pm from Reims in the SNFC when paired, to Little Dorrie winner of 3rd open SNFC Reims, the dam being a daughter of the Castres of Leon Messiaen. Third club was a 2 year old hen who is from a Keith Bush bird when paired with a daughter of the Castres of Leon Messiaen. 

Ayrshire Federation
News from Archie McIntyre federation race secretary with the report for the Buckingham race, with 2 attached two photographs. One of David Armstrong and his good friend Gavin Urquhart with (Gavin is to the left in the photo) I have also included a photo of Harvey Pollock winner of 2nd federation, once again many thanks Joe yours Archie'. Ayrshire Federation's joint convoying with the SNFC from Buckingham was the next race on the calendar for the membership with the marking of the pigeons taking place in the Kilmarnock club rooms. It was noticeable from early on at the marking there was not going to be enough baskets (as only 10 baskets had been brought down to the station) and this was proved to be the case as our federation secretary was asked if he could go and get additional baskets from the Ayrshire Federation Transporter to complete the marking. Not a great start for the pigeons as they would have to be re handled into the correct SNFC baskets once our feeder lorry met up with the other SNFC Transporters. The federation membership sent a total of 397 pigeons but not all of these pigeons would have been duplicated into the Scottish National, but still a good turnout from the federation.
Gavin Urquhart and David Armstrong 1st and 3rd Fed Buckingham
Buckingham to the membership is between 268 miles up to 305 miles to the top end of the Federation. Leading the way in to Ayrshire this week from Buckingham is David Armstrong of West Kilbride. David timed 2 of his pigeons in 46 minutes out of his entry of 7 to not only record top positions in the fed but also in the SNFC as well. Winning 1st fed, 2nd section H on a velocity of 1095.6 and 69th open SNFC. David winner is a 2 year old dark chequer cock send just coming off the drive; as a yearling this cock was sent to Ypres 464 miles and was timed the following morning to record 13th federation. The sire of this fine cock was bred by Karen Newcombe of Macmerry, while the dam is just a blend of all David's family of pigeons from over the years. The 3rd federation winner 5th Section H on 1000 velocity for David also took a great position in the SNFC winning 178th open. This cock was bred by his good friend and close neighbour Gavin Urquhart. The sire is one of Gavin's Denis Dall pigeons containing all the best of Denis bloodlines, Lady Helen, Rowena II, Denis Delight and Ulrica. The dam was a gift bird to Gavin from Dave Barrett of Sudbrook in Lincoln being bred down off Dave's House of Arden x Chris Gordon pigeons.  2nd fed this week we have Harvey Pollock of Irvine on 1003.3. As well as taking a top federation position for Harvey, this 2 year old widowhood hen also won 4th Section H and 169th open SNFC. This was another great performance achieved by our Ayrshire members on what could only be described as a very difficult race. A brother to this hen has also previously recorded a 2nd Section F for Harvey from Ypres. The Sire goes back through Harvey's old family of pigeons. The Dam is a daughter of W Watson's of Wishaw Silver Award Hen 'Genna'.  Harvey timed 4 pigeons on the night and ended up with 10 out of his entry of 12 with 2 out of his 10 being hawked. There are a few other pigeons I think well worth mentioning on the Ayrshire result that put in good performance in the fed and SNFC. 4th federation (Not in the SNFC) was M Brown of Whitletts & District on a velocity of 997.1. 5th federation 6th section H and also winning 268th open SNFC is Boyd Brothers of Whitletts & District on 953.6. 6th Federation 7th section H 325th open SNFC Andy Barbour of Dalry HS. 7th federation (Not in the SNFC) was A Connelly of Irvine HS on 962.3. 8th and 9th Fed, 8th & 9th section H and 336th & 349th open SNFC with velocities of 928.8 and 921.7. is Robert Reid of Dalry HS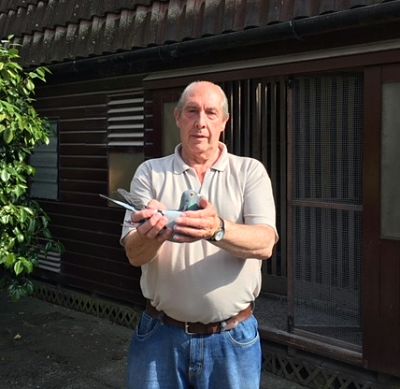 Harvey Pollock 2nd Fed Buckingham
North Section 220 birds; 1st & 2nd are David Armstrong of Dalry HS with velocities of 1095.6 and 1000.1. 3rd Andy Barbour (Dalry HS) velocity 933.7
Central Section 67 birds; 1st Harvey Pollock (Irvine HS) 1003.3 2nd Alan Connelly (Irvine HS) 932.3 3rd Robert Donegan (Darvel HS) 891.5South Section 110 birds; 1st M Brown (Whitletts & District) 997.1 2nd Boyd Bros (Whitletts & District) 953.6 3rd Cree & Cuthbert (Whitletts & District) 875.8
Club Winners not mentioned: Kilwinning HS, J McNeil 902.2, Ardeer HS, Stirrat & McKenna, 888.4, Crosshouse HS, A Wilson 834.6, Dalmellington Pigeon Club, M McLarty 802.1, Annbank & District winner J Mathieson 793.5, Mauchline & District winner A Plenderleith 584.5, Kilmarnock Invitation winner J Neil 469.2
Almond Valley Federation
News from Secretary Lynne Stewart with the result of the Newark race held on the 3rd June with the convoy of 736 birds liberated at 09-30 hours. (This arrived after my article was away to the printers) Topping the federation is S Fleming from Armadale club with John Bird of West Calder club in 2nd 14th & 15th open. J Burnside of Armadale is 3rd 4th 10th & 17th open. D McBeath of the same club is 5th 13th & 18th open. John Jamieson of East Calder club is 6th open. J Barron's of Armadale is 7th & 12th with Vic Couper of Forth & Clyde club in 8th open. J Clark of Armadale is 8th with club mate T Gavin in 11th open. J Hadfield of Armadale is 16th 19th & 20th open.
Club Winners are as follows;
Armadale 280 birds; S Fleming, J Burnside 914.817, 895.091, D McBeath 894.731
Balerno 96 birds; C Bain 823.880, C Ross 810.174, 801.175, 798.533
Carnwath 83 birds; J Warwick & Son 782.182, R Robertson 774.557, I Thomson 750.601, Thomson Bros 739.801
East Calder 108 birds; J Jamieson 884.677, J Burnside 825.348, F Jamieson & Son 801.243, 796.175
Forth & Clyde 97 birds; V Couper 872.861, Mr Mrs Conlin 827.258, G Harris 824.024, R Buchanan 815.815
West Calder 72 birds; J Bird 962.541, 847.496, 845.102, 800.287
East of Scotland Federation
News from John Baillie who writes 'Hi Joe hope you are well, initially we were going to be racing from Kettering, but due to the poor weather forecast race controller Bobby Graham put back the race marking of the birds. He was notified that we could not release our birds from Kettering, so our next point would be Peterborough but that was not possible either due to not having access for the transporter because it was a Sunday. We basketed the birds for our open race from Newark then when Sunday morning arrived it was not possible to hold a liberation there either and the transporter started making its way back home. The convoyer contacted his contact in Tow Law and was told it was suitable for liberation there and that is where the birds were liberated at 14-25 into a light south east wind. Taking the top spot this week are Mr & Mrs Burgess of Ormiston with a yearling cock. In 2nd open place is Davy Gillan of Tranent with Jim McNeil also from Tranent in 3rd place. Tom & Scott McEwen of Elphinstone are 4th & 5th open with John Bird of Prestonpans in 6th 8th & 9th positions. George Veitch of East Saltoun is 7th open with Tam Hunnam of Port Seton in 10th place.
Prestonpans Homing Club: Winning this week are Tom & Scott McEwen and also taking the 2nd spot. The winning yearling cock was bred by Richard & Jamie Combe from their distance family when crossed with a bird gifted by Tom & Scott from their Mark Gilbert Deweerdt bloodlines. The 2nd placed yearling is from Paul Stobbs breeding this being inbred to Pauls champion 'The Gypsy'. John Bird is in 3rd place with a 2 year old hen bred from D & H Hawkins Vandenabeele's crossed with a son from Bits & Pieces. Returns were very good with only a few missing when reading the clocks. Maidstone SNFC national this weekend, let us hope for a good race with excellent returns to have them back across the channel in the weeks to come. Thanks once again Joe yours John B'
Fife Federation
News from Geordie Todd with the result of the Alnwick 2 race held on the 9th June with 1070 birds liberated at 13-30 hours into a light north east wind. The top 10 are the same
10 in the federation are the same as the top 10 in the East section who had Kennoway sending 117 birds; Leven had 106 birds; Methilhaven 76 birds; St Andrews 46 birds and Tayport 43 birds. Topping the federation and also 10th place is Jimmy Mackie of Leven club with Tam Laing of Kennoway in 2nd place David Brown of Leven is 3rd 4th & 5th with A Whittaker of Methilhaven in 6th & 7th places, Honeyman & son of Kennoway are 8th with Jim Honeyman on place behind in 9th spot.  Centre section had Glenrothes & Leslie club sending 129 birds with Kirkcaldy Novar entering 74 birds. Taking the top 9 positions is Glenrothes club with the section winners Turpie & McCord; Dean Bridges takes the next 3 positions with Mick McMurchie taking the next 4 places. Jock Dinsdale is 9th with Kennoway's Sean Diamond in 10th place. The West section had Crossgates club sending 201 birds; Lochgelly 103rd bird, Dunfermline 103 birds and Perth 72 birds. The section winner is Bob Wilson of Glenrothes & Leslie club with S Donaldson of Perth taking the next 2 places. Jock Brockie of Lochgelly is 4th 6th & 7th with Willie Stark of the same club in 5th spot. J Hynd & son of Crossgates take the last 3 places to make up the top 10.
Pentland Hills Federation news from Andy Miller who informs us that the federation held their 8th race of the 2018 season on Sunday 9th June; this was to from Kettering with 13 clubs sending 1243 birds. Basketting was delayed 24 hours due to the weather and as Sunday morning dawned race controller Bobby Graham didn't like what he saw and due to inclement weather decided the birds would be brought back to Tow Law (a distance of 88-100 miles to most lofts). Winning 1st New Lothian and 1st Federation is John Milne from Arniston who timed his 2 year old widowhood cock for a velocity of 1596. This cock is a previous winner this season being 1st club 2nd New Lothian and 2nd Federation from Ripon earlier in the season. Breeding is Frans Zwols from stock obtained from Border Lofts crossed with Formula 1 lofts. 2nd are the father and son partnership of Willie Pryde & son John of Arniston club they are also 4th open. L Mitchell of Castlebrae club is 3rd & 5th with Danderhall's A Young winning 6th place followed by club mate J McIvor in 7th sport.  A R Pringle of New Lothian is 8th with W Hume of Danderhall in 9th place and making up the top 10 is S Gilchrist of Edinburgh Premier club.
Club Winners are as follows;
Arniston 109 birds; 1st Milne 2nd & 3rd W Pryde & son
Castlebrae 45 birds; 1st & 2nd L Mitchell 3rd A Mitchell
Danderhall 288 birds; 1st Young 2nd McIvor 3rd Hume
Edinburgh Premier 76 birds; 1st 2nd & 3rd Gilchrist
Bonnyrigg 101 birds; 1st Smith 2nd Stark 3rd Watson
Sighthill 63 birds; 1st Bremner 2nd & 3rd Miller
Rosewell 15 birds; 1st   2nd & 3rd Mackie
Woodburn 95 birds; 1st 2nd & 3rd Brown & Black
Loanhead 68 birds; 1st 2nd & 3rd Anderson
Easthouses 77 birds; 1st Sanderson 2nd & 3rd Reilly
Edinburgh West 81 birds; 1st 2nd & 3rd C Bennett
Traprain 210 birds; 1st & 2nd Thomson 3nd Newcombe & Black
New Lothian 55 birds;
The New Lothian RPC
Had 51 members sending 708 birds taking the number 1 spot and winning over £100 is J Milne of Arniston with club mates Willie & John Pryde in 2nd & 4th positions. L Mitchell of Castlebrae club is 3rd & 5th with A Young of Danderhall in 6th place one place ahead of club mate J McIvor who wins £274 for his efforts. 8th spot is won by A R Pringle of New Lothian with W Hume of Danderhall club in 9th position. 10th 11th & 12th places are won by S Gilchrist of Edinburgh Premier club winning over £275 for his efforts.
North of Scotland Federation
News from George Duthie who writes ' We  had 65 members sending 930 birds to Ripon this was made up of the East section had 34 members sending 560 bird with the West section having 31 members sending 370 birds. The convoy were liberated into a light north east wind with high cloud. 1st west section and 1st open is Ian Coull of Buckie & District he is also 11th section and 21st open with his 2nd bird. Colin McRae of Fraserburgh & District club is 1st east section 2nd open and he is also 7th east section 12th open. Colin's club mate A W Buchan is 2nd & 8th east section 3rd & 13th open. R Barclay of Fraserburgh West End club is 3rd & 11th east section 4th & 19th open. Devern Valley member A Wilson is 2nd 3rd 8th & 10th west section 5th 6th 18th & 20th open. G Findlay of Peterhead & District club is 4th & 9th east section 8th & 14th open. Inverurie Eric and Nicky Yule are 5th east section 9th open with their club mate A Foster one place behind in 6th section 10th open. J Abel of Devern Valley club is 5th west section 11th open his club mate A Milne is 6th section 15th open. G R Duncan of Keith club is 7th west section 16th open. A & A Milne of Inverurie club are 10th east section 17th open. R Wilson of Keith club is 9th west section 20th open.
Clubs First Bird
Buckie & District winner is Ian Coull
Fraserburgh & District winner is Colin McRae
Fraserburgh West End winner is R Barclay
Devern Valley winner is A Milne
Peterhead & District winner is G Findlay
Inverurie winners are Eric & Nicky Yule
Keith winner is G R Duncan
Elgin & District winner S Wells (Jnr)
Well done to Ian Coull on topping the federation and also a 'well done' to Colin McRae on winning the east section. That's it for this week Joe yours George'.
Buckie RPC
News from Gavin Russell who writes 'We were at Ripon for a race on the 2nd June was cancelled due to bad weather the birds were brought back home after chasing the weather all the way up the road. The following week we again went to Ripon for race of approximately 251 miles. The birds were liberated at 10-15 into a 
moderate north east wind. Winning 1st club and 1st federation is Ian Coull with a  yearling mealy hen doing a velocity of 1381 she is from a Paul Woolliss crossed
Venner of Street. This is the 2nd time this year this hen has topped the federation . She was sitting on her 1st eggs paired to another hen and is a 'cracking wee doo'.
Ian is 2nd club with a 2 year blue hen doing a velocity of 1073.6 she is a Scott Irving of Brydekirk direct bird flying natural. 3rd club is John Cumming with a yearling blue white flight doing a velocity of 1073.4 a Stuart Maskame of Peterhead bird sent flying natural. Overall a very hard race with quite a few empty perches at clock checking that's it for this week cheers Joe yours Gavin Russell'
Good SNFC Birds
My first bird highlighted is 'Victorious Victor' raced by Victor Couper of Dennyloanhead I've covered him last year in this feature on good SNFC birds; but Victor wrote to me this week saying 'Hi Joe, I would like to inform you that my good chequer cock 'Victorious Victor' the cock that won a bronze meritorious award in 2017 has scored again from the bad Buckingham race finishing 8th section E and 244th open and he wins £858.35 for his efforts. This cock has now scored 6 times in the inland nationals and has paid for the upkeep of his loft mates for the past 4 years. The very first training toss he had this year he took three days to come home, this was from 10 miles, when he did come home he was very scared and jumpy, I think he had been chased by a peregrine and went into hiding for 3 days. It took him a month to get back to his old self and I decided to give him a few tosses and his first race was Wetherby a distance of 175 miles, then Wakefield 190 miles and then into Wetherby again; before going to the SNFC Buckingham race, a distance of 300 miles. I took this photo 5 minutes after he arrived from the national. His previous wins are as follows; in 2015 he won 36th section E from Portsmouth flying 375 miles against a convoy of 4767 birds; he then won 15th section E from Eastbourne a distance of 402 miles with 2494 birds competing. The 2016 he won 30th section E from Buckingham a distance of 300 miles with 4328 birds in the convoy; that same year he was also sent to Littlehampton a distance of 385 miles and won 38th section E from an entry of 4482 birds. In 2017 he competed from the Bedhampton national a distance of 375 miles and he won 55th section E 449th open from a convoy of 6065 birds. My next pigeon highlighted is 'Lynne' a blue hen SU14AF 1440 raced by my son Kevin J Murphy of Arbroath. In 2016 she won 25th section C 63rd open from Ypres flying a distance of 455 miles; then in 2017 she won 3 times in the national being 69th section C 201st open from Buckingham a distance of 322 miles back to her loft, 2 weeks later she went to Bedhampton and she won 9th section C 26th open flying 400 miles 3 weeks later she was sent to Ypres and she won 24th section C 63rd open thus achieving her 4th national diploma. We now come to A Nelson of Hamilton in the west section his blue bar hen SU13L 3343 is a very consistent bird as a 2 year old she won 18th section E from Billericay flying 342 miles, the following year she won twice the first time from Buckingham a distance of 288 miles where she won 67th section E she was then sent to the Ypres national and won 11th section E 101st open flying 445 miles. In 2017 she was entered into the Buckingham race and just missed out on the very last section prize but lifted pool money. We move to the west of Fife to the loft of Eddie McWilliams of Blairhall who has a blue chequer cock SU15F 1200 that has won 3 times from inland nationals for him. In 2016 he was sent to Buckingham a distance of 302 miles and won 46th section C 195th open he was then sent to Littlehampton a distance of 386 miles and he won 41st section C 136th open. Then in 2017 he was again sent to Buckingham and he won 78th section C 239th open. I have had a look to see if he was on the recent inland national result but did no notice his number.
Victorious Victor
Joe's Joke
Terrible news coming from Glasgow this morning
The Clyde Tunnel has been closed and the speed limit will be reduced for
the foreseeable future to 25 mph. The Highways Agency found over 200 dead crows on the tunnel approach road recently, and there was concern that they may have died from Avian Flu. A Pathologist examined the remains of all the crows, and, has confirmed in their report the problem was NOT Avian Flu but rather the cause of death appeared to be from vehicular impacts. However, during analysis it was noted that varying colours of paints appeared on the bird's beaks and claws. By analysing these paint residues it was found that 98% of the crows had been killed by impact with Lorries; while only 2% were killed by cars. The Agency then hired an Ornithological Behaviourist to determine if there was a cause for the disproportionate percentages of truck kills versus car kills. The Ornithological Behaviourist quickly concluded that when crows eat road kill, they always have a look-out crow to warn of danger. They discovered that while all the lookout crows could shout "Cah", not a single one could shout 'Lorry'.
Please continue to keep the news flowing; to Joe Murphy Mystical Rose Cottage 2 Flutorum Avenue Thornton by Kirkcaldy KY1 4BD or phone 01592 770331 or Email to

This email address is being protected from spambots. You need JavaScript enabled to view it.

REMEMBER THE J IN THE MIDDLE or log onto www.elimarpigeons.com www.fancierchat.co.uk www.pigeon-chat.co.uk and www.Pigeonbasics.com - Pigeon Racing the Basics! Who wish my weekly contribution portfolio on pigeon topics from Scotland
© Compiled by Joe Murphy