Sedgefield Race
Light cloud and sunshine the race conditions appeared good for a steady flight back into Scotland. The liberation took place at 08:50hrs, with a smaller convoy of 900 birds and 3 Fauldhouse club baskets. Think most people have shut up shop for the season.
The distance was around the 130 mile from Sedgefield to the winning loft of GWP Macaloney. Each week the same result the Macs on the top of the leader board. Its a remarkable journey of dedication and class pigeons that produce these outstanding performances. The white flag has been risen in many a loft throughout Lanarkshire, but not these guys.
Paul Macaloney with his winner
Their birds are a picture of health and all tuned to win first prize each week.
This weeks winner is a mixture of all their top lines, Camelot, Kittle, NellyBoss, Lambrecht. It's testament to their stock pigeons, real quality! Working on the basis of most being tried and tested racers, retired to stock. Its scary the amount of their top performance pigeons have been stopped for stock but there has been no loss of performance.
This weeks winner "56" this weeks winner for GWP Macaloney
Well done again to Wullie & Paul Macaloney There's no stopping these guys!
This week they were pushed to the wire (On the same yard) by Lewis McAuley of Clarkston club, who in his first year in Lanarkshire federation flying only a small team of birds (started with 15) has only been beaten by two lofts in the federation over the last three races. Top flying and he looks like a serious contender for the future!
His winner is out of one of his best racers when he raced in his old loft location. A blue cock that was out of a pair of birds purchased from Woodroffe Bros of Sunderland. The dam is out of a John Crook/Dalgleish cock that bred his 1st sec D ,28th Open Ypres 2016 when paired to a dark hen that was 1st NW federation Ypres, in turn her mother bred by Davie Hunter from Plean, was also 1st Federation Ypres winning 6th Open SNFC. This hen won a few prizes including 38th Open Gold Cup Alencon.
Lewis McAuley has hit the ground running in his new federation, taking 3rd,4th federation. On the back of 2nd federation last week
Lewis second pigeon this week is the same pigeon that was 2nd Federation last week, bred by Woodroffe Brothers, Sunderland.
Had the pleasure to put these birds through at marking and they handled extremely well and of a nice type.
Dave Love of Clarkston club continued his cracking season putting three in the top 15 of the section. Again his pigeons were looking great!
In the west section James & Gary Green made it 3 in a row of section wins another loft that the quality is shinning .
JJK Gillon had a top race wining the first three in the east section. Well done Joe snr, Joe jnr and Kelly
The race was a mixed bag with plenty of empty perches at clocking. But what's new. Doesn't look like this side of the country is providing safer racing for the birds. What's the answer?
Think racing when falcons are at their heaviest population isn't the answer.
Around the clubs
Airdrie
1st,2nd,3rd,4th,5th GWP Macaloney
Lanarkshire Social Circle
1st,2nd,3rd,4th,5th GWP Macaloney
Clarkston
1st,2nd Lewis McAuley
3rd,4th,5th D Love
New Stevenson
1st,2nd,3rd,4th,5th JJK Gillon
JJK Gillon are never far from the top, they win another in New Stevenson
Carluke
1st,2nd,3rd,4th,5th Graham Bros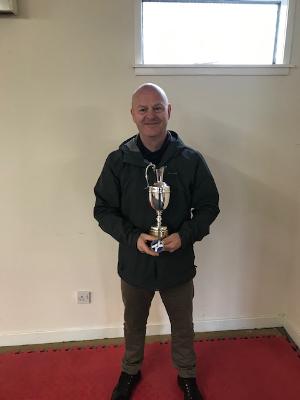 Andy Graham of Graham Bros wins another in Carluke club
Cambuslang
1st,2nd,3rd,4th,5th E Robin jnr
Eddie Robin Jnr continues his cracking season winning another in Cambuslang
Burnbank
1st,2nd,3rd ,4th,5th J Green & Son
Greenfield
1st,2nd,3rd,4th,5th M Krivokapic
Mio Krivokapic has a clean sweep in Greenfield club & Mio's Loft
Chryston
1st,2nd,3rd,4th J & J Hood
John Hood (L) with good friend John McCallum,Joh wins Chryston club
Blantyre
1st,2nd,3rd A Wylie jnr
Cambusnethan/Morningside
1st,2nd,3rd JJK Gillon
4th I Fairley
5th J Whiteford & Family
Dalziel
1st,2nd,3rd,4th,5th J Boyle
Joe Boyle of Dalziel is having a cracking season with his youngsters
Uddingston & Dist
1st,2nd,3rd ,4th,5th J Cameron
Jim Cameron is having a great season, winning another in Uddingston
Newmains
1st S Harkin
2nd J Whiteford & Family
3rd,4th Eadie & Kelly
5th T McGinn
Larkhall & Dist
1st,2nd,3rd,4th,5th R Smith
Robert Smith wins another in Larkhall & Dist
Fauldhouse
1st,2nd,3rd,4th,5th T Gavin
Section winners

Centre
1st,2nd,5th GWP Macaloney
3rd,4th L McAuley
East section
1st,2nd,3rd JJK Gillon
4th S Harkin
5th Graham Bros
West section
1st,2nd,5th J Green & Son
3rd,4th E Robin jnr
Average Leaders Board
Combine
1st GWP Macaloney 1225
2nd J Cameron 1176
3rd J Whiteford & Family
4th T McGinn
5th JJK Gillon
Young Bird
1st GWP Macaloney1139
2nd D Love 1112
3rd I Rankin
4th J Cameron
5th T Richardson
Tom Corrie jnr
Lanarkshire Press Officer
This email address is being protected from spambots. You need JavaScript enabled to view it.